A few weeks ago I was invited into one of my favourite Grade 6 classes. They were struggling with multiplication, so the teacher set up an activity where her 6's taught a variety of multiplication strategies to the 4's. The students worked in groups and each chose a different strategy to show the Grade 4 students. They chose which tools were needed to run their stations and created all files or manipulatives they needed.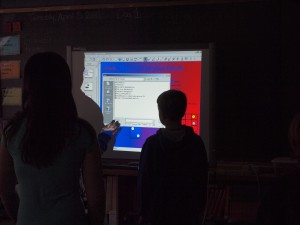 As I walked around and chatted with my friends I was amazed at some of the things I saw. Each group had chosen to create a SMART notebook file with demonstrations, practice and games. One group used whiteboards. One group used the document camera. The Grade 6's completely took ownership of making sure the 4's understood their strategy. They wanted them to like their station best and so did everything they could to make it fun and enjoyable. The Grade 6's wanted the 4's to use their strategy the most in the future and took it as a personal challenge. They also wanted positive feedback for their station on the reflection pieces the Grade 4's were completing at the end. The 4's were excited to try the fun things the 6s had created (and maybe a little afraid to say "no" when asked to participate?).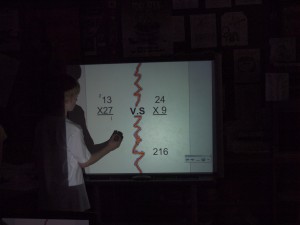 The challenges of running the activity included finding enough portable SMART boards to bring down so 5 stations could be created. I had assumed it would be an organizational nightmare, but was completely wrong. Grade 6's really stepped up to organize the Grade 4s. A few times I walked by a station (during the first centre especially) and saw a Grade 6 struggling to explain a concept. Each time I almost jumped in to help, but luckily held off long enough to see another Grade 6 hop in and respectfully redirect the conversation in a way that made sense to everyone. The Grade 6's really had to know their stuff! Anything they were shaky on, was quickly consolidated. A couple things that stood out included a student who rarely participates, jumped right in and demonstrated excellent leadership for the full block. Another student acted as a journalist and went around making notes of students doing positive things. At the end he announced a list of students who had done something positive and shared this with both classes. To be honest, it was wonderful to see SMART boards being used by groups of students to collaborate.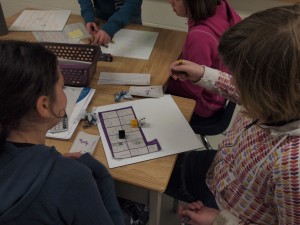 I had a blast visiting the class and was talking today with one of the Netherlands teacher-trainers visiting this week. He asked if it was something I would consider writing about and sharing on my blog. You know the way a teacher can ask you a question that makes you think that it was something you thought of and want to do? 🙂 So, thanks Henke for the push! My adventure on the "day of a hundred SMART boards" definitely should be shared. 🙂